GlobalData predicts Italy's new law prohibiting new oil and gas prospecting and exploratory permits will harm the sector both domestically and internationally
The hydrocarbons industry in Italy is to suffer following the country's 18-month ban on new oil and gas prospecting and exploratory permits, according to GlobalData.
The data insight firm predicts the law, introduced last month, will negatively affect the plans of multiple companies, which could launch legal action as a result.
Oil and gas analyst at GlobalData Alessandro Bacci says: "Other countries across the world have banned or proposed banning new hydrocarbons exploration in recent years, but for many of them, the ban is more a cosmetic change than a real economic game changer.
"For example, France's and Belize's hydrocarbons production has always been negligible.
"New Zealand's ban and Denmark's proposed ban exclude the key areas of their upstream sectors ─ the North Sea for Denmark and the Taranaki area for New Zealand.
"As most of the companies investing in Italy are European, the recent Achmea case suggests that EU law will protect Italy against investor-state arbitration clauses present in bilateral investment treaties between member countries.
"However, the affected companies may still lodge lawsuits on the basis of the Italian and EU laws."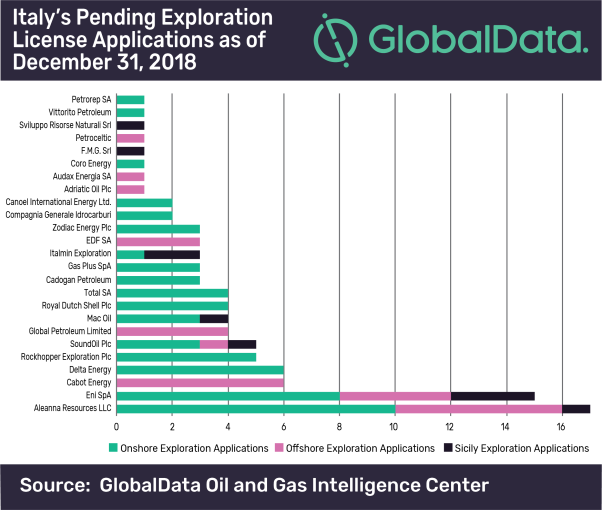 Renewables to profit from Italy's oil and gas exploration ban
Italy's recent legislation suspends the awarding of new oil and gas concessions in the country for a year-and-a-half, save for those which have received permission from the government following petroleum operation approval for the areas in question.
It does not, however, affect producing concessions or concessions already in the awarding phase.
The law was ostensibly brought in to reduce the country's carbon footprint and help nudge its grid towards reliance on renewables as the prominent power source.
It represents just one element in a raft of recently-introduced measures geared towards that end, complimenting Italy's bid to phase out coal production by 2025 and its aim to remove fossil fuels altogether by 2050.
GlobalData analysis suggests Italy produces 184,000 barrels of oil equivalent per day, which covers 10% of oil and 8% of gas domestic consumption respectively, making it a relatively small hydrocarbons producer.
The country's oil and gas sector acts as a major attraction for exploration and production companies and has an important service sector operating on a global scale.
The industry's development, both domestically and internationally, could therefore be damaged by the new prohibitive law, which throws into possibility the launch of legal action from affected parties seeking compensation from the state.